DWS Women in History
Eluned Morgan (1870-1938)
Eluned Morgan Jones was born in 1870 on board the Myfanwy en route to the Welsh settlement in Patagonia. She is regarded as one of Patagonia's leading Welsh-language writers. She was the daughter of Lewis Jones, one of the founders of the Welsh Settlement.
She was sent to Dr Williams' School in 1885 to finish her schooling. Her two native languages were Welsh & Spanish and she had a limited knowledge of English. She couldn't understand why she was forbidden to speak Welsh at the dinner table and encouraged her friends (including Winnie Ellis, the sister of MP Tom Ellis) to rebel against the no Welsh rule. It took the intervention of Dr Michael Jones of Bala, one of the original founders of the Patagonian settlement to resolve the issue.
Click here to see the article she wrote for the first edition of the School Magazine in 1887 when she had returned to Patagonia. She was critical of the school, complaining that there was not a single Welsh book in the library, despite it being the first language of many of the pupils. She also encouraged more of her fellow pupils to speak and read Welsh. The editor replies to her letter saying that there are some Welsh magazines and books available.
The 150th anniversary of the first sailing of 'The Mimosa' from Liverpool to Patagonia was celebrated on May 28th 2015. To read more about the Welsh settlement set up in Patagonia, go to the website Glaniad
Dame Margaret Lloyd George 1864-1941.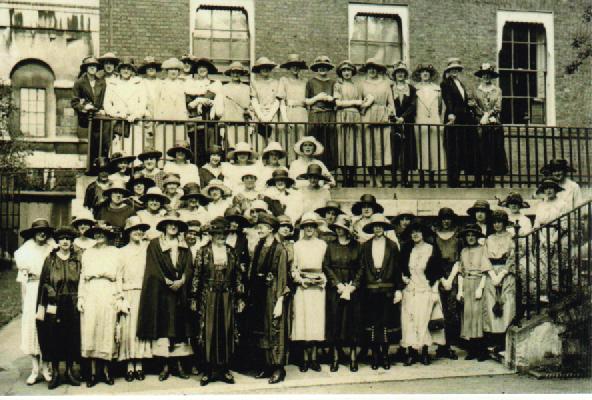 Margaret Owen from Criccieth attended Dr Williams' School shortly after it opened in 1878. The National Library of Wales holds her school reports which are are hand written in copperplate. They have faded with time but still reveal the subjects of the curriculum and shed light on the ethos of the school at that time. Punctuality, manners, attendance and application of the pupil's ability in particular subjects are mentioned. Margaret, like so many pupils, then and now, was considered, in some areas, that she 'Could do better! Click on the link here to see her reports on the People's Collection Wales website
There is also an appraisal of the school in 1879 by D Lewis Lloyd MA of Jesus College Oxford, who in his examination summing up report says "There is no shame, no pretence and no nonsense. The work is real, solid, and substantial, and may I be allowed to express my firm belief that North Wales possesses in Dr Williams' School the means of effecting a revolution in the education of girls of the middle classes in the Principality".
Margaret married David Lloyd George in 1888, who served as the British Prime Minister from 1916-1922. She was appointed Dame Grand Cross of the Order of the British Empire (GBE) in 1920 after raising over £200,000 for war charities. Click on the link to see a photo of her opening the school bridge in 1938.
---
DWS during World War II
Janet Bronwen Alun Pugh (Viscountess Astor) (Died 28th December 2017) attended Dr Williams' School during World War II and wrote a graphic account of her experiences at that time. Her letters home were carefully preserved and dated by her father, Judge Alun Pugh. Letters Home in WW2 is a link to her story of life in Dolgellau during those years. A link to her obituary can be found here.
Another pupil, Glenys Davies, wrote about her experiences in "DWS Changes from 1939 – 45, one of which was a visit by The Old Vic Theatre Company with Dame Sybil Thorndike & Lewis Casson to perform Macbeth at the school.
---
DWS's influence on pupils in Music and the Arts
Dilys Elwyn Edwards (Roberts) 1918-2012, was born in Dolgellau and attended DWS in the 1930s. In an interview with her recorded in 1984 she talked about the school's influence on her musical career. The interview (in Welsh) can be listened to on the Audio page of this site.
Dilys was an Eisteddfod adjudicator and appeared and performed on radio and television. The BBC commissioned a number of works from her, one of which was "Mae Hiraeth yn y Mor", a sonnet by R Williams Parry, commissioned by Kenneth Bowen in 1962. It was acclaimed as a classical marriage of words and music in Welsh and has yet to be surpassed. Most of her later songs were of Welsh poetry. In 2004 Bryn Terfel recorded "The Cloths of Heaven" on his recital disc "Silent Noon".
The interview also mentions Marion Eames (1921-2007) who was a pupil at DWS from 1932 to 1937. She is considered to be one of the foremost Welsh historical novelists. Her first novels, 'Y Stafell Ddirgel' (1969) and 'Y Rhandir Mwyn' (1972), are historical novels based on the Quakers of Dolgellau and their emigration to Pennsylvania. See information about the Quaker Walk round Dolgellau on this site.
Here is a link to the National Library of Wales which gives more information about her novels.
---