DWS Biennial General Meeting 2016 & 2014
DR WILLIAMS' SCHOOL OGA BIENNIAL GENERAL MEETING 2016 held at Coleg Meirion Dwyfor 24 September at 2:00pm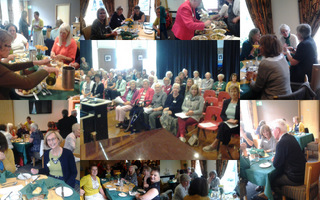 46 OGs enjoyed a splendid lunch held at Coleg Meirion Dwyfor in the training restaurant and the formal meeting took place at 2.20pm in the Hall. Sadly, owing to a poor weather forecast the proposed Sunday walk up 'Cader' cancelled but a few OGs drove to Cregennan Lakes - a wonderful place and finished up at 'The George' Penmaenpool for light refreshments before setting off for home. A lovely end to conclude an enjoyable weekend.

CREGENNAN LAKES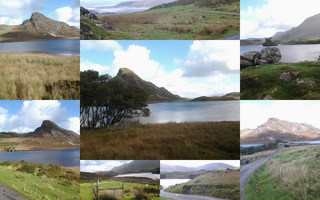 Minutes of the Dr Williams' School OGA Biennial General Meeting at 2pm on 24th September 2016 at Coleg Meirion Dwyfor (MEETING BEGAN AT 2:20pm)
1.Welcome
The OG were welcomed by Mr Eifion Owen and reminded of safety regulations.
The Chairman, Nesta Wynn Jones further welcomed the OG and was delighted that 46 old girls had accepted the invitation to the BGM.
2.Apologies.
Apologies were received from Jill Hughes , Judy Abbott , Ruth Duncan , Alex Harper Shirley Dalby, Diana Bradburn Anne Mason Katherine Davies ), Eleri Wyn Evans, Wendy Tardioli, Gillian Green, Brownwen Pugh (Lady Astor), Carys Jones , Jennifer Hutcheson , Susan Ogden , Ann Owen-Jones , Mary C Williams .
3.2014 BGM minutes.
The minutes were considered a true record. Proposed by Ann Lloyd Davies , seconded by Jane Lloyd Hughes.
4.Matters Arising
All covered by Agenda.
5.President's report.
If I were to ask you what Richard 1st, Alan Turing and Jane Austen [DBL's favourite novelist] had in common those of you with sense and sensibility might dismiss this an some peculiar enigma; apart from possibly being a question plucked from one of the Christmas General Knowledge Quizzes we used to do, you might well question what they have to do with our DWS Reunion?
With some gentle persuasion I hope I might urge you to consider that they each lived fascinating lives and achieved much but,… but their lives ended when they were 41. 41? Well, as we all recall, it was in 1975 when DWS closed its doors for the last time- 41 years ago. In that time we have produced our own book [not quite a Jane Austen classic but something approaching pride rather than prejudice] and with valiant efforts, worth of the lionhearted, Sue and Jennie launched and kept our website a fascinating source of interest and nostalgia for us all, Eirian and others have worked not only on the H L F but in updating the DWS data base which has over 800 names. Work is ongoing with Janet's help and from branch secretaries to confirm all these details. Thank you to everyone involved in all these projects.
But it is to Nesta we have so much to be grateful. Her energy, enthusiasm and inspiration are infectious and so many projects and initiatives we have now are because of her time over the years as Chair of DWS Committee. So thank you, very much, for the work and time you have given, Nesta.
Meryl Davies [September 2016]
6.Chairman's Report.
Welcome all, it is now time to step down as your Chair. I have had a splendid 6 years since I accepted The Chair of DWSOGA on the retirement of Margaret Hewitt in 2010, so thank you for electing me. I have been delighted and honoured to represent you.
Until 2006 when I retired from paid work I had not thought about DWS since its closure at a general meeting held in the gym (hall was too small for the unexpected numbers) in July 1975. Whilst sorting 'ephemera' (a word I have been encouraged to use since the start of our hlf project) and the receipt of my bus pass, I decided to contact some of my year group – had they also received their bus passes? I also decided with my best school friend Nest Jenkins to attend that year's BGM and, the ball gathered momentum – I organised a year reunion for the class of '64/5,was invited to set up a Yorkshire branch and then in 2009 became involved with our first website set up with Sue Ogden (Carter). 2010 BGM arrivedand I was elected Chairman as no one else wanted to stand.(one falls into these things)
From 2010 I have tried to follow the example Margaret set of visiting all our branches for their reunions and as a result my life has been enriched by meeting OGs from various decades.I have caught up with school peers I had not seen for 50 years, resurrected my Welsh language skills in both speaking and writing and made some very good friends.My committee cannot be bettered, they are all professional in their approach to keeping our Association running smoothly and bring different skills to the table.Branch Secretaries are zealous in communicating with their branch members and organising reunions and whether 50 turn up or 6, inevitably there is much laughter and reminiscences over good food.Thank you all.
Now you will all remember, in 2012 as a result of the first website becoming obsolete you gave unanimous support to your executive committee to investigate grants and subsequently submit a bid to the Heritage Lottery fund to create an interactive heritage site.In 2014 our new website was launched thanks to the HLF grant.www.dwsoga.org.ukhas had huge input from Jennie Hutcheson (Forrester) and Sue Ogden (Carter) the project co-ordinators, the diligence and help of '9thWave' designs and together with oversight of the project by the web steering group 'meeting' via Skype every 6 weeks until July this year has made sure our interactive heritage project is a resounding success.So much so that we have earned a Highly Commended from the Community History Group – see the Press release on your chairs.
Thanks and acknowledgement must also be given to County Archivist Merfyn Wyn Tomos who has been an enormous help and also to the students from Aberystwyth University who set up the facility to upload and catalogue the DWS archives.The Audio files kindly donated by John Peel were 'cleaned up' by students from Huddersfield University and as a result they were good enough for the audio section.HLF were very pleased that some students had benefitted from our 'Ardua Semper Sharing Stories project and that DWSOGA'silver surfers' had became involved.
Over the last 2 years the site has grown like Topsy with a fascinating range of stories, images and audio files.Thanks must also be given to you OGs for uploading the stories, finding images to publish and attending workshops to develop your IT skills in publishing stories in an interactive way..Daily conversations on Facebook and Twitter has shown that the younger OGs have enjoyed 'finding long lost' school friends who have posted reminiscences long forgotten by some.The threads in the discussions are fascinating to read and add another dimension to DWS history. The site is still available to upload stories and in fact a new person registered this week.Registration on the site is still possible.
Friendships resulting from similar experiences are long lasting and the experience we endured/enjoyed at DWS has I am sure you will agree stood us all in good stead during our lives.We can all 'network', talk to anybody of whatever standing and stand our ground in an argument.We are very caring and aware of cause and effect and try never to 'fall out' with anybody.On balance I am pleased to be a DWS OG and I know that being Chair of our Association has enriched my life.I am sure whoever succeeds me will bring new vigour and enthusiasm and DWSOGA will continue.
Finally I must thank my committee, all the branch secs, Treasurer Nêst, Minute Taker Janet, Data Manager Eirian and President Meryl and not forgetting the august 3 Vice Presidents who have given me their unstinting support during my tenure as Chair.Diolch yn fawr.I pass on my good wishes to my successor and hope to attend as many reunions as I can to catch up with new and old friends.
Nesta Wynn Jones
Chair:DWS OGA dwsoga75@gmail.com
September 2016
Nesta encouraged us all to reply to e-mails and letters from branch secretaries and to be pro-active to keep the OGA going. The OGA activities are found on the News and Events section of the website. Numerous ways of contacting the OGA exist including the new e-mail: dwsoga75@gmail.com
7.Treasurer's Report.
Nest reported that there had been very little activity in the DWS OGA account. The balance is £7,700, but bills for the BGM had not yet been paid. The healthy balance was largely as a result of the book sale and various fund-raising activities to fund the early stages of the book project. This source of income has now dried up.
The HLF fund had seen considerable activity. A grant of £51,300 had been awarded by the HLF; this included anticipated VAT charges on various professional fees. Some professionals were not VAT registered and therefore the sum allocated to VAT could not be claimed. The OGA had to contribute 2% of the project costs.
The accounts were considered to be accurate. Proposed by Meryl Davies (Elwell), seconded by Lynne Moorhouse ( Moody)
It was agreed that we should ask Michael Lumb, retired solicitor, to be our auditor once again. Proposed by Jane Lloyd Hughes, Seconded by Anne Lloyd Davies (Roberts).
8.Data manager report
Eirian had attempted to contact as many OG as possible to update their details. She had had over 400 responses. She reminded us that the Data Protection Law prohibits disclosing any information to third parties. OG were asked to notify Eirian of any changes in details via dwsoga75@gmail.com or by informing the branch secretaries.
9.New Website.
Nesta was delighted by the resounding success of the website which was a natural progression from the book, "Honour Before Honours". Particular thanks were given to Jennie Hutcheson and to Sue Ogden ) who had worked tirelessly on the project and way beyond their paid hours. The website had been submitted to the Women's History Network Conference" and was awarded Very Highly Commended by the judging panel.
The Women's History Network – Community History Prize 2016, sponsored by the History Press, is judged by representatives from The Women's History Network, The History Press, heritage professionals and community historians. Our project was awarded Very Highly Commended at the 'Women's History Network Conference' at Leeds Trinity University on 16th September. The judging panel thought it was 'well researched, genuinely innovative and really liked that it recovered and catalogued an area of the past previously hidden history'. The judges were 'impressed by the strong engagement with new media technologies and the fact that the project team explicitly sought to use the digital aspect of the project to develop and enrich participants IT literacy skills'. And they were 'really impressed by the quantity and variety of the media content on the site'.
Jennie had been invited to give a paper at Durham University on the World War 1 Homefront Learning Resource for Teachers component of the website. In addition the Aberystwyth University 'Masters' students who had worked on the project all received distinction and have had work in the field since graduating. 300 OG have registered for access to the WS OG site, which remains open for further registrations and publishing.
10.Resignations:
President: Meryl Davies
Chairman: Nesta Wynn Jones)
Vice Chairman: Carys Jones
Secretary Ann Owen Jones
11.Election of Officers

President:Nesta Wynn Jones proposed by Jane Lloyd Hughes, seconded Janet Evans voted in unanimously
Chairman: Eleri Wyn Evans's had accepted the nomination and her letter of acceptance (see below) was read out at the meeting. There were no other nominations:- Proposed by Gail Hall, seconded by Nêst Roberts and voted in unanimously.
"President, Vice Presidents, Committee and ladies of DWS OGA. I regret that I cannot be with you today but another appointment has forced my absence. I'm sure that you have all enjoyed the usual excellent fare and had plenty of time to catch up with new and old friends. I was surprised, nay shocked to be asked to become the Chair of the OGA Committee, and perhaps the person who nominated me and seconded me should be glad that I cannot be here today, as I could have strangled them! but something of my schooldays made me think about the request, and consider my responsibility, so it is with trepidation and honour, I accept the nomination and hope that the current Committee members will support and guide me along the way.
Mae'n hynod bwysig ein bod yn sicrhau , mor hir ag sydd bosib, dyfodol Cyn ddisgyblion DWS,gan ein bod yn lleihau mewn nifer, ond mae'r brwdfrydedd yr un mor gryf.
Diolchaf o waelod calon am eich ffydd ynof, a gobeithio trwy ras Duw y gallaf wneud y swydd yn dda.
I will endeavour to attend Branch meetings whenever I can and look forward to meeting as many of you as possible.
Thank you again for your support"
Eleri Wyn Evans

Vice Chairman: Ann Kelly proposed by Dolgellau and mid Wales branch, seconded by Phyll Jones, voted in unanimously.
Secretary: Janet Evans proposed by Nesta Wynn Jones, seconded Eirian James – voted in unanimously.
The committee: all remaining members stood for re-election and were voted in unanimously.
12.AOB.
Dr Williams Educational Fund. This was set up when the school was sold.Dwyryd Williams, secretary of the fund, had kindly written a report on the activities of the Fund and OGs were reminded that their children or grandchildren could apply for financial assistance to the fund if below the age of 25. Copies of the report and name of trustees were made available for OGs to take.TegwenHumphreys, an old girl was present at the meeting and confirmed the above.
OGA account. As there is £7,700 in the account, a discussion was had on what we should do with the money. Eirian James pointed out that the constitution (point 6) stated that monies should only be spent 'to further the objects of the Association'. Nest explained that the executive committee had decided that the fee for the hire of the Hall at CMD and additional expenses of the BGM should be covered by the fund so as to keep the cost of the BGM at £20 per person.There was unanimous agreement that the funds should be used to facilitate this.
We were reminded that funds will be needed to maintain the website for the next 5 years
Keeping OGs in contact. Overall, branch meetings are struggling with numbers decreasing. It was suggested that we should send an e-mail to non-branch members with details of meetings etc using the master database and from dwsoga75@gmail.com. Janet Gough suggested that we have a map illustrating the location of OGs. (no names would be given). This to be considered.
Cader Walk. As the forecast was very poor for the Sunday, the Cader walk was cancelled.
Next BGM. It will be the 140th anniversary of the school's founding and therefore we should aim to make it a greater celebration. Meryl suggested a one-off newsletter. Gwerfyl Price suggested that we should have links to the Dolgellau website to remind OGs of the attractions in the area and mention the many good restaurants and cafes around.
The meeting closed at 3:50pm
Date of next BGM –Saturday, 22nd September 2018.

__________________________________________________________________________________________________________

---
---
DR WILLIAMS' SCHOOL OGA BIENNIAL GENERAL MEETING 2014 held at Coleg Meirion Dwyfor 27 September at 2:00pm
Prior to the meeting a delightful Carvery lunch prepared and served to a high standard by Coleg Meirion Dwyfor Catering and Hospitality Students was enjoyed by 40 members. It was very impressive how we were all served efficiently within the hour from 12.30pm - 1.30pm. Many thanks go to the students who were working in their own time.
President's Report 2014.
Since we last met at the biennial reunion in September 2012, the OGA has certainly embraced the high tech world. Little did I think and I am sure many more of you could not have anticipated what has taken place since the proposal at the 2012 meeting that we should once again make a bid for funding from the Heritage Lottery Fund. The hard work, commitment, enthusiasm let alone the time given by the small Executive Committee that has resulted in submitting the application and finally granted the award of the very generous grant. The really hard work started once the money was received and the regular meetings via Skype. In being awarded the grant, the requirements are exacting, recruiting personnel with the appropriate requirements, interviews, meetings, let alone some travel. Our admiration and thanks go to the OG's who have undertaken this task and a special thanks to Nesta who has kept a watchful eye on it all. Today we will all see their hard work and I do hope as many of you as possible will go away and participate and be active. The learning curve may be steep at times but I am sure true grit and determination will get you participating, I can assure you it is very interesting and amusing and I have had many a good laugh! I must also thank all members and friends who have given of their time doing various jobs and completing time sheets which have to be kept up to date. Volunteer time submitted so far, amounts to the equivalent of £16,000
Two years ago, I made a commitment that I would attend [or try to] branch meetings. Once again, I have to apologise that I could not do so, as in February 2014, I had total replacement of both knees so missed a number of meetings. I did however attend the enjoyable lunch at Bwyty Mawddach celebrating the school birthday and the North Wales lunch in May in Llandudno. Thank you Branch Secretaries for inviting me.
Since we last met, Wendy Cain has passed on the task of updating the database to Eirian James. Thank you Wendy for your work and to Eirian, thank you for taking on this job as well as all the other work you have been doing with the website. Can I once again make a plea: please inform Eirian of any change of address, e-mail address and telephone number.
As I was unable to attend the meetings during the year, I have been busy as a volunteer, inputting data from the Admissions Register of DWS. This will be essential as a cross referencing tool to check registration of users/participants to our new website. (Eirian very kindly scanned the register at the Dolgellau Archives). The entries from 1945-1975 were relatively straightforward, all dates and names recorded. From 1939 to 1945 it was not so easy and the index starting at No.1 had no dates recorded and I do not think that this entry was in 1878. A visit to the Archive Office may be the solution. The last entry was No.4324.
I have enjoyed being your President and thank you for your support. I hope you will give your new President the same welcome you afforded me.
Jane Lloyd Hughes
September 2014
Chairman's Report 2014
What a busy two years. Little did I think when the exec committee were given the go ahead at the September 2012 BGM to further investigate the realising of a new website, that it would be the start of a huge learning curve. Not only were we to seek monies for the project, but the decision as to the type of website that was required had to be defined.
Jennifer Hutcheson gave us the impetus to go for a heritage, interactive website with a link to the DWS archived material. Jennie had had experience of involvement with a successful Community Heritage website in West Yorkshire and suggested it would possibly suit our needs with its story telling potential. Sue Ogden who had built the original site and who had already investigated updating it, also thought this approach possible. A steering group was formed and by mid November possible costings had been researched and contact made with the Department of Information Studies at Aberystwyth University re cataloguing of material and ephemera, donated by OGs to the Archive Office in Dolgellau. It was decided that we approach the Heritage Lottery Fund Wales with a pre bid proposal to see if the project was worthy of consideration for an award. Jennie undertook this and received a positive response. The work now began in earnest.
Early in 2013, Jennie volunteered to write the proposal. Many consultations later, with Eirian James who had experience of bidding for funds; Diana Bradburn with her business acumen; Nêst Roberts making sure costings were realistic; Phyll Jones, local link; Janet Evans keeping records and proof reading; Sarah Higgins with post- graduate archive students from Aberystwyth University Department of Information studies and myself overseeing evaluation, a firm proposal together with letters of support were sent to The Heritage Lottery Fund at the end of August 2013.
The proposed 2012 budget had gone above £10,000! We had not realised how expensive (using HLF remuneration guidelines) professional expertise could be; website designer, a project co-ordinator, a technical advisor, proof reader, translator, advertising/publicity, hardware, – where did it stop. We needed a professional looking site with tools to provide an interactive experience, the need for it to be archived and the possibility of its use as a learning resource. It was soon realised that we also needed a separate OG section – two sites in one – an added expense. The sum now stood at £52,000
We heard mid November 2013 that our bid had been successful with the proviso that we offered opportunities for volunteering and extended involvement to the local community. Eirian became the HLF link reporting to HLF and Jennie and Sue withdrew from the steering group as they wished to submit an application for the advertised posts. The three key posts were advertised with a deadline for applications being mid December and interviews via Skype a week before Christmas. So many applications with so much interest in our project dropped in my inbox – the wonders of the IT age. These were circulated to the steering group and after consultations via Skype a shortlist of 3 for each post was drawn up. Interviews were conducted via Skype by a panel composed of Diana (recruiting experience); Nêst (finance) and myself with the casting vote– what an experience! It was 'touch and go' whether our two OGs would be appointed; competition was stiff. To appoint Jennie and Sue despite their strong credentials we needed HLF approval. A report justifying the appointments was duly sent to HLF, and after a nail biting week we had the go-ahead. '9thwave web designers' were appointed to build the site. Now for the drawing up of contracts and confirming appointments – another learning curve! We were ready to go and the first Press Release went out.
From January this year the steering group have held meetings via Skype at 6-weekly intervals to ensure the timetable has been adhered to, with only little slippage, agree proposals and oversee that finances are in order. Eirian has been invaluable with her expertise in reporting to HLF and having monthly discussions with Jennie. Volunteering has been in the forefront throughout; we have now reached nearly half of the proposed hours represented in monetary terms in the bid. Some of the volunteering already done includes, scanning material in the archives, designing publicity material, running introductory workshops at branch meetings, trialling the uploading of materials, preparing for a launch, researching Dame Margaret Lloyd George, proof reading and contact with Peoples Collection Wales. Thank you all who have participated so far.
The web site is 'LIVE' www.dwsoga.org.uk but a lot more work to be done before the deadline date of June 2015 when the project ends. Inevitably there will be glitches with the site but over the coming months these will be ironed out. The more people who use and contribute to the site the easier it will be to identify glitches etc.
Has there been time for anything else? Yes indeed, I have enjoyed attending our branch reunions and been offered a warm welcome whether at a hostelry, hotel, restaurant or private home. Thank you branch secretaries. I have met so many 'young' OGs now in their 50s and those more senior, with some in their 90s and exchanged both different and similar experiences. Miss Nightingale's era was very different from Miss Lickes's and during Miss Lloyd Jones's tenure it appears that girls enjoyed very many more freedoms although dislike of various bits of uniform was universal!
Friendships resulting from similar experiences are long lasting and the experience we endured/enjoyed at DWS has I am sure you will agree, stood us all in good stead during our lives. It has given us a platform from which to go forward and take our place in society and perhaps make our mark. Now, thanks to the 'Heritage Lottery Fund Wales' and 'The Peoples Collection Wales', our new website, 'Ardua Semper'- Sharing Stories and the book 'Honour before Honours' will ensure that Dr Williams' School will be remembered long after we have departed.
Nesta Wynn Jones Chair DWS OGA
September 2014
Minutes of the DWS OGA Biennial General Meeting held at 2:00pm on 27th September 2014 at Coleg Meirion Dwyfor
Welcome
The Chairman, Nesta Wynn Jones (Merrells) welcomed the old girls and said she was delighted to see so many who were at school in the late 60's and early 70's and those who had travelled distances. Sadly since the 2012 meeting three prominent members of the OGA had died, namely Nell Lloyd Jones, Celia Ridge, secretary of the London branch, and Hâf Morris.
Apologies.
Apologies were received from Jill Dunn, Janet Jones, Diana Bradburn, Karen Mann, Tyra Mann, Dwynwen Roberts, Shirley Dalby, Sarah Broadbent; Wendy Cain, Catrin Dwyryd, Margaret Murray, Tegwen Humphreys Gillian Green, Enid Roberts, June Ashworth Lily Pugh Jones, Catherine Theiss and Megan John.
2012 BGM minutes
They were considered to be accurate. Proposed by Ann Roberts; seconded Judy Fletcher.
President's report(complete version forwarded to all OGs 2 weeks prior to the BGM)
Jane Lloyd Hughes congratulated the OG executive committee on its work on the interactive website which was to be launched later in the proceedings.
Jane had had agreement from the OG committee to honour Hâf Morris at the National Eisteddfod to be held at Meifod in 2015. Hâf, a DWS OG who became an inspiring music teacher,was well known nationally for her enormous contribution to Cerdd Dant.The Prize in her memory will be for the first, second and third prizes for the Cerdd Dant competition for the 12-15 year olds at the National eisteddfod 2015. The total prize money will be £110.
Chairman's report(complete version forwarded to all OGs 2 weeks prior to the BGM)
Having already welcomed us all, the chairman thanked committee members and the branch secretaries for their crucial role in ensuring the smooth running of the OGA. There are branches in Dolgellau and mid Wales, North Wales, South Wales, London, the Midlands, Bristol and the South West and in Yorkshire. The Chester branch was about to amalgamate with North Wales. Possibly the South West branch would eventually merge with the South Wales Branch – numbers were decreasing in all branches. Nesta hoped that some more branches would open in Scotland, Northumberland, Sussex and the far South West as there were some OGs living in these areas who lived too far to access a branch reunion meeting. Ideally, OGs should not have more than 1½ hrs to travel to a venue.The Committee were embracing the digital age with the hope that in the next few years as much information as possible would be sent electronically and it was therefore important that current e-mail addresses were sent to the Data manager eirian.james56@yahoo.com
Treasurer's report.
Nest Roberts had succeeded Jill Dunn as treasurer in February 2013. She thanked Jill for handing over the books in such good order. Nest had distributed copies of the accounts at the beginning of the meeting. Although the first twelve months was quiet, 2014 had been a very busy year dealing with the lottery grant and expenses for the website project.
It had been agreed at an OG committee meeting to increase executive committee members' travel costs to 20p/mile from the previous 5p/mile. However travel costs for the website project had been kept very low as the meetings were taking place via Skype.
Of the £51,000 Lottery grant, £27,000 had been spent.
The 2013 accounts had been audited by a retired solicitor, Michael Lumb of Prestatyn.
It was proposed that Mr Lumb be appointed as auditor again. Proposed by Jane Lloyd Hughes, seconded by Meryl Elwell.
Data manager report.
Eirian James had taken over from Wendy Cain as Data Manager. There were 800 names on the data base. Updated e-mail addresses are requested where available.
New website.
Eirian gave a brief introduction to the new interactive website and encouraged OGs to "Share their stories" during the next eight months. She also requested that OGs complete the simple questionnaire, as feedback is required by the HLF.
The HLF bid had included volunteer time amounting to £38,000. £16,000 of volunteer time had already been accounted. Eirian explained what could count as "volunteer time" and encouraged OGs to participate in the many jobs that still needed to be done such as scanning material at the Archives in Dolgellau.
Resignations.
President: Jane Lloyd Hughes
Vice presidents: i) Miss Nell Lloyd Jones(deceased) ii) Miss Valerie Shepherd (ill health)
Midlands branch Sec: Meryl Davies
Chester branch Sec:Janice Crow
Amalgamation of Chester and North Wales branches.
The suggestion made at the DWS OG Executive Meeting on Friday, 26th September to amalgamate the two branches was put before the meeting.
Proposed by Anne Lloyd Davies seconded by Margaret Hewitt and carried unanimously.
Election.
Nominations had been received for the following:
President: Meryl Davies - Proposed by the Midlands branch, seconded by Chester branch. There were no further nominations and Meryl was duly elected with a unanimous show of hands
Midlands branch secretary: Margaret Hewitt with Lynn Moorhouse to help with electronic mailing.
Vice presidents: Jane Lloyd Hughes and Anne Lloyd Davies – carried unanimously
The remaining committee and executive members were re-elected for the next 2 years.
A.O.B.
Meryl Davies reminded the OGA that 2018 will be the 140th anniversary of DWS opening. She suggested that we should aim to make that a particular celebration. We were also reminded that in 2015, it will be 40years since the school closed and that it is quite remarkable that the OGA is still thriving. There was no other business
The meeting closed at 2.45pm
Next BGM -24th September 2016 in Dolgellau.