Website Launch Report
From our new President Meryl Davies -
So, here we are again, not just for a sociable and delicious lunch but the launch of our new and exciting interactive website which the Welsh Heritage Lottery Fund had made possible (with involvement of 6 Aberystwyth students) and, more particularly, by the ongoing enthusiasm of our Chair, Nesta Wynn Jones. The inspiring project has been led by Jennie Hutcheson and Sue Ogden with local support from Eirian James and Phyll Jones among others. We happily welcomed our guests to the launch to help us celebrate this new venture.
It is now up to the rest of us to learn to upload those snippets, photographs and all the assorted memories which make this our heritage .. 39 years after DWS closed its doors.
There are about 800 Old Girls on our data base but there must be many more who have just never quite got round to registering their details... Or have changed emails recently so are not able to be contacted. What a shame to miss out on this fun and exciting way to explore what we were and how we are. This weekend I met many old friends whom I hadn't seen for well over 40 years and it was delightful.
By looking back we can take steps forward to ensure that, in the words of the poet, Thom Gunn in his poem " On The Move"
"One is always nearer by not keeping still"
"ARDUA SEMPER" SHARING STORIES Dr Williams School Dolgellau 1878-1975
Launch of the Heritage Lottery funded interactive heritage website
(click on the image of the cake to view a gallery of photos of the website launch which will open in a new window)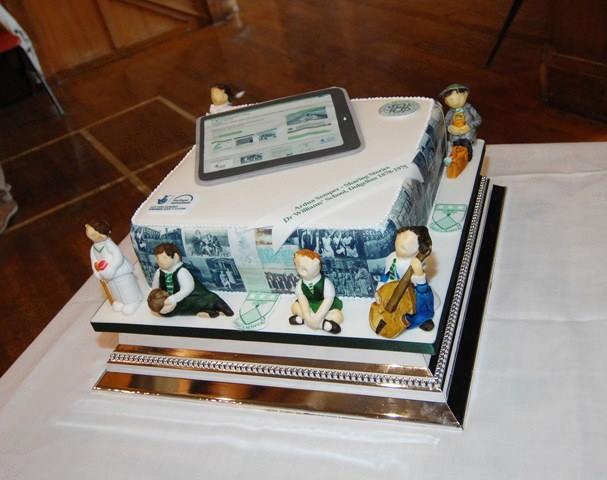 The weekend of 27/28 th September 2014, saw Dr Williams' School Old Girls' Association celebrate the Launch of their interactive heritage community website (funded by the Heritage Lottery fund) at Coleg Meirion Dwyfor, the old home of Dr Williams' School.
Activities during the weekend included a well - attended IT workshop for 'silver surfers' on the morning of the launch demonstrating how the website worked and how stories and pictures could be uploaded.All the computers were occupied and some new stories were uploaded.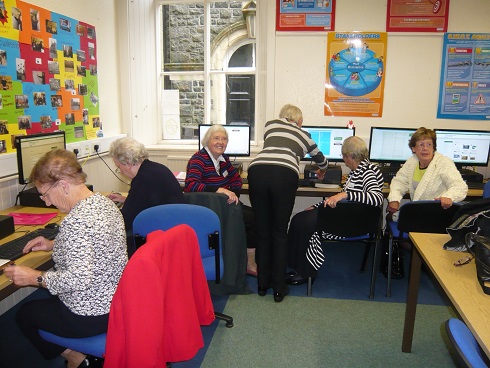 The Launch of www.dwsoga.org.uk on Saturday afternoon was well attended and the led walks on Sunday morning 28 September(The Quaker Trail led by Catherine James and The town trail led by Merfyn Tomos) proved interesting and all who participated had learnt a little more of the rich heritage surrounding Dolgellau.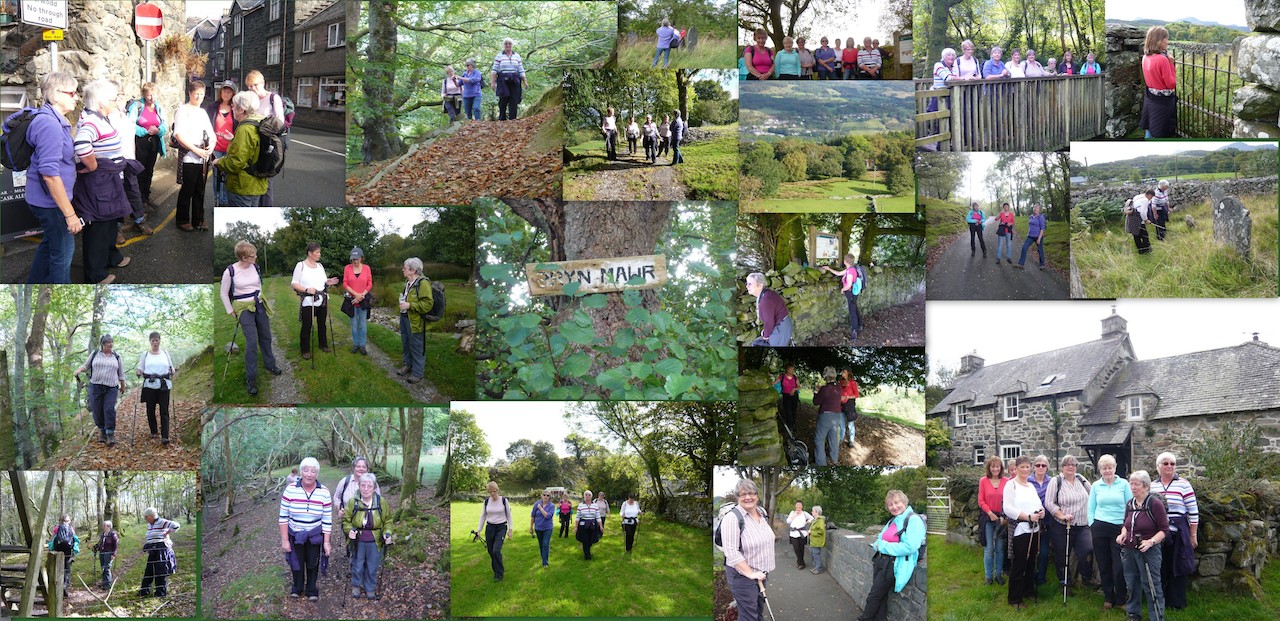 At 3.00pm on Saturday 27 September, the Launch featuring a small exhibition and a celebratory cake, was attended by 60 guests some from as far afield as Torquay and Devon was opened by Nesta Merrells Chair of the OG Association. Honoured guests included Mr Edmund Bailey Lord-Lieutenant of Gwynedd and Môn; His Worship the Mayor of Dolgellau, Cllr Delwyn Evans; Sir Meuric Rees; Mr Gerallt Hughes, Chair of the Meirioneth Historical and Records Society; Linda Tomos, Dir: CYMAL: Museums Archives and Libraries Wales, Sarah Higgins, Aberystwyth University; Eifion Owen Head of Business and Service Industries Coleg Meirion Dwyfor and Mr Ian King 'Dolgellau Online'.
The Mayor of Dolgellau welcomed both 'Old Girls' and guests to Dolgellau and said how pleased he was that a heritage website had been created which put 'flesh on the bones' of the book 'Honour Before Honours' the DWS Story, by Merfyn Tomos, launched in 2010.Mrs Anne Roberts OBE a DWS 'Old Girl outlined the background of the project which was followed by a presentation and demonstration by the team who had created the site - Project Co-ordinator Jennifer Forrester, Sarah Higgins Aberystwyth University, tutor to post graduate Archive students who created a digital archive and Sue Carter Content and Technical co-ordinator.Mr Edmund Bailey Lord-Lieutenant of Gwynedd and Môn who had strong links with the school through the women in his family responded and Miss Jane Lloyd Hughes ( another DWS Old Girl) outgoing President of the Association gave the Vote of Thanks.
The afternoon concluded with the cutting of the Celebratory cake by Meryl Elwell, incoming President of the Association and the singing of the School Hymn accompanied on the piano by Nia Llwyd (another Old Girl).This was followed by tea and much socialising until 5.00pm
A section of the exhibition depicting historical events