Obituaries of ex-pupils and staff
This page contains obituaries which have been submitted to the association for inclusion on our website
---
November 2015
Morfydd Rees (Mrs Rhys Clark) - ' Hir y cof am wraig annwyl a thyner'
Born in Llangwyryfon in 1920 but always proud to call Venezuela as her country of conception, (her father was in the diplomatic service at the time as consul in Caracas) Morfydd was the eldest of four children born to Dr T Ifor and Elizabeth Rees. Her mother returned to the family home to give birth to her first-born - a long and arduous journey for a pregnant woman in the 1920s. Morfydd spent her childhood in Bilbao, Spain and retained a great fondness for the country and its language. She was an able linguist but Spanish remained her favourite and she always relished any opportunity to speak the language after her return to Wales. At the age of 11 she was sent to Dr Williams' School, Dolgellau - a result of her parents' wish for her to have an education in the Welsh language. She had been tri-lingual for as long as she could remember. Following school in Dolgellau she went to St Hugh's College, Oxford graduating in Spanish and French. She then went to work for the Foreign office in London and in 1943 when her father was appointed the first Ambassador from Britain to Bolivia, Morfydd joined him in his diplomatic work. She married in La Paz, returned to Wales for Hilary's birth, before returning to Bolivia where she stayed for two years before again returning home to Bronceirio for Gwenan's birth, where she remained for the rest of her long life. Bronceirio became the hub for family life with Morfydd being the link that connected the generations. Many celebrations were held here. Morfydd's interests were varied - literature, music, dance, cinema, ballet, and fine art. She enjoyed writing short stories and poetry ; she kept a personal diary until recently. Her nephew, Ifor, read one of her poems in the service - 'Jottings' as she called them in her unassuming way which endeared her to us all. She loved nature in all its forms - mountains, sea, birds, flowers, sun and sky; her garden and orchard were a constant source of delight to her and her camera. Yes, she had inherited her father's sharp eye for a good photograph. At the service, a moving tribute was given by her grandson Dai Rhys Price, supported by Sara and Alun and her other grandchildren. Carla, Dai's wife sang 'Calon Lan' in both Welsh and Spanish. Music written by her grandfather, J.T.Rees, an eminent composer, teacher of music and conductor was played on the organ by Kathleen Lewis a family friend, both before and after the service
with thanks to Morfydd's family for granting permission to use the above obituary featured in the Cambrian News January 14 2016
---
August 2015 Beti Evans (Mrs Beti Wooley)
To girls from Dinas Mawddwy it was a big step attending DWS. It involved leaving home on a Monday morning and staying in Dolgellau in other homes until Friday. Beti's love and aptitude for music was evident from the beginning - not only did she enjoy playing in the orchestra and singing in the choir but was an excellent violinist and harpist. She paid tribute throughout her life to two music teachers - Miss Violet Ingram (violin) and Miss Alwena Roberts (harp). Having music lessons from these members of staff enabled her to miss PE and games which she did not regret! The school years were not easy for children during the war years but life went on and at the end of schooling, career choices had to be made. Beti gained a place at the Royal Academy in London but before arriving she showcased her talent by competing in the Harp solo at the National Eisteddfod in Bangor and was awarded the first prize jointly with Osian Ellis. Both Beti and Osian became students with Gwendoline Mason at the Academy; thus began two successful careers. During her student years she stayed at 29 Parke Road, Baines, London SW13 enjoying her college days and experiencing some enriching incidents. One incident involved transporting her harp across London - Beti duly ordered a taxi which arrived and after sometime taken with loading up the harp, the taxi drove off with Beti still standing on the pavement. Despite not being very athletic, she ran after the taxi at great speed and managed to stop it. Once graduated, Beti looked for work; she was offered two positions, one with the BBC Welsh Orchestra in Cardiff and the other from the Cape Town Municipal Orchestra. Beti opted for the latter much to everyone's surprise. She sailed from Southampton to South Africa on the 'Caernarvon Castle' with her harp safely stowed in a custom made wooden box. Beti and harp arrived safely proposing to stay for just a year but love intervened and she married Peter Wooley, a young doctor. The wedding was held in South Africa but arrangements had been made for the families to celebrate together in Chirk on the day of the wedding. A superb feast was laid on and a magnificent wedding cake was cut by Beti's best friend, Mary Wynne at precisely the same time as the one being cut at the ceremony in Cape Town. Beti and Peter returned to Wales fifteen years later and as the children became older, visits became more frequent. During her time in Cape Town she taught music and enjoyed meeting up with Welsh people particularly at the hotel where she played. At the end of her life she met Bryn Terfel who had accompanied the 'Only Kids Aloud' choir and he was stunned at the fluency of her Welsh considering the time she had spent living in South Africa. When she visited Wales she attended the Eisteddfod but refused to join in with the ceremony celebrating Welsh people who lived abroad; her reason being 'believe you me, if I did participate in the ceremony I would never be able to climb the steps to the plane taking me back home to South Africa'. Beti was always supportive of young musical talent and avidly watched videos of young people competing at the Urdd Eisteddfod, The National Eisteddfod the Llangollen International Eisteddfod and the 'Cardiff Singer of the World' competition. Beti's decision to stay in South Africa was a huge one and her talent a sad loss to Wales. May God Bless her. Mary Wynne.
---
Haf Morris
Medal ceremony Sir T H Parry-Williams – in honour to Haf Morris, 2009 at the National Eisteddfod of Wales, at Bala.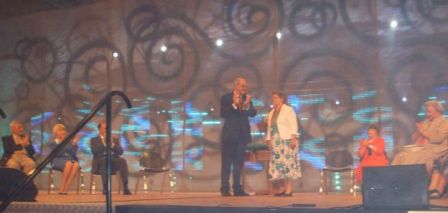 Haf was the daughter of a local rural headteacher in the county of Meirionydd, in which county there had been an awakening of interest in cerdd dant, a type of traditional music, during the early years of the last century – most particularly in the rural counties of Meirionydd and Montgomery.
She attended Dr. Williams' School, Dolgellau where she received a firm grounding in musical theory and then went on to study music as her principal subject at the University College in Cardiff.
Haf was a stalwart member of the Cerdd Dant Society taught groups, choirs and individuals as well as arranging the music for this special form of Welsh music over many years. She was an adjudicator at many Eisteddfodau throughout Wales, she also formed the Aelwyd yr Urdd at Aberangell. Teaching this special form of music was very important to her so for years she arranged a course teaching Cerdd Dant to pass on the skill to future generations.
She spent a period of more than 25 years as music teacher at two of the large Comprehensive schools in Anglesey, - Llangefni and Amlwch where so many choirs, duets and soloists are forever grateful to her for her expertise and help.
---
Dilys Roberts was born in Dolgellau and attended DWS in the 1930's. She was offered the Turle Music Scholarship at Girton College, Cambridge and the Dr. Joseph Parry Scholarship from the University of Wales, Cardiff where she gained a BMus degree.
She returned to DWS to teach music and left in July 1946 when she received an Open Scholarship in Composition from the Royal College of Music in London where she studied composition with Dr. Herbert Howells and piano with Kathleen McQuitty.
In 1947, she married Rev D Elwyn-Edwards and moved with him to Oxford while her husband attended Mansfield College. While living in Oxford, Dilys took organ lessons from Sir Thomas Armstrong at Christ Church Cathedral. For many years they lived in Caernarfon where her husband was the minister of Castle Square Chapel and Dilys was a piano tutor at Bangor Normal College and Bangor University. She was an Eisteddfod adjudicator and appeared and performed on radio and television.
The BBC commissioned a number of works from her. She was known for her soft, melodic art songs for voice in both Welsh and English. One of her compositions, "Mae Hiraeth yn y Mor", a sonnet by R.Williams Parry, commissioned by the BBC for Kenneth Bowen in 1962 was acclaimed as a classical marriage of words and music in Welsh has yet to be surpassed. Several of her early songs were of English poems. Most of her later songs were of Welsh poetry. Her last English settings were the "Two Songs of Walter de la Mare" for soprano Rosamund Shelley at the Criccieth Festival in 2001. In 2004 Bryn Terfel recorded "The Cloths of Heaven" on his recital disc "Silent Noon".
Her husband died in 2005 and she died peacefully in a care home overlooking Llyn Padarn at the foot of Snowdon.
---
Miss Elizabeth Jones was born and lived all her life in Dolgellau. She was known as Elizabeth the Crown, the house where she lived for most of her life until she moved to the flat in Glyndwr Street. She was Secretary / Treasurer of DWS OGA for many years and it is thanks to Elizabeth that the OGA has continued after the closure of the school. She enjoyed arranging the biennial reunions and DWS Magazine, badgering OGs to contribute and not letting us get away with the non appearance of an article or news. She had knowledge of generations of OGs as well as their families and was in correspondence with many who lived outside the UK. She made it her duty to find out about children and grandchildren of OG's who could benefit from the Dr. Williams' Educational Trust. She had a full and interesting life and as an association we miss her.
Jane Lloyd Hughes
---
Helen Bailey (nee Rees)
Helen, together with her sisters Morfydd and Bethan was brought up in Dyffrunglyncul and then in Escuan. She attended Penybryn school before moving to Dr. Williams' School, where she joined the school's cricket club and the drama society and took part in the school's annual public performances.
She began her career as a personal assistant to a literary publisher in London, where she developed her lifelong interest in reading and book collecting. She married Ed Bailey, Gorsygedol and they settled in Plasbryn, Llanbedr, Harlech and had two children, Edmund Meuric and Sarah Margaret.
She was a governor of the local school, served on the Community Council, was Welsh President of the local Women's Institute and Chairman of the nearby Scout troop. She was also active in the NSPCC, establishing a local wing. She was appointed a J.P. and sat on the Dolgellau Bench.
Helen had a positive attitude to life, her character displaying inner strength and a deep sense of purpose. Family, friends and her Christian faith were Helen's priorities and despite knowing the outcome of her illness she never lost her sense of humour nor her concern for others.
with kind permission from 'Dail Dysynni' and Sir Meuric Rees
---
Ruth Townsend lived and worked all her life in Dolgellau. There were few in the town who could not have known her. It was significant that someone who packed a great deal into her life should have had St Mary's brimming with people at her funeral. Whilst on the surface she appeared to flaunt convention and confidently hold strong opinions on many subjects she was, above all, kind, warm hearted and generous.
She helped many people and organizations by donating, quietly and without fuss, financially and also giving of her time, energy and enthusiasm. This included many who were employed by her, helping with "Riding for The Disabled " at Ty'n Sarn, supporting Women's Aid and the local refuge, helping the local unit for Severe Learning Difficulties as well as serving as a Soroptomist and long standing Member of the DWS Old Girls' Association.
She bore her illness with great courage and determination and showed the depth of her character but it is the joy and laughter she brought to many that will help us recall the good times which made for a full and memorable life.
---
Mrs Vaughan came to DWS in September 1965 when she and her husband moved to Dolgellau from the Midlands. She joined four nervous, 'rookie' teachers to whom she was always sympathetic and helpful.
Always interested in the welfare of her pupils, Mrs Vaughan came into school each day providing a link with the outside world: tales of the animals from [donkeys to cats] with which she was always surrounded, cheered up downcast girls and led to her running Pets' Club, She remained undeterred by even the memorable episode of the mass escape of a family of baby rabbits on the platform at Ruabon Station as they were returning home with their owner.
Although she was quietly spoken and of a gentle nature, Mrs Vaughan would not hesitate to speak out firmly and without hesitation if she perceived there to be an injustice concerning pupils or adults. When taking part in the Staff Hockey match we saw determination and no quarter given but she also possessed a wicked sense of humour and could reduce occupants of the smaller staff room to helpless laughter- sometimes to the annoyance of colleagues in the main staffroom!
She served on The OGA Committee until her death, and one of the happiest memories we have of her was at the 2004 AGM when she arrived with the late Robert Gwyn Jones who, before addressing the meeting, described the diminutive Mrs Vaughan as his bodyguard!
We will remember her for her love of her garden and for any number of creatures, tame and wild, who received her care and understanding; and for her deep interest in her fellow human beings.
---
Miss Barbara Blake Born in 1907, Miss Blake died within 8 months of her 100th birthday. Before coming to DWS she had taught at Harrogate College, Cirencester College and Cheltenham Grammar. In 1954, 'Blakie', as she was always known, came to Dolgellau. During her nine years there she endeared herself to everyone. Not only was she a thoroughly meticulous and stimulating teacher of French but she was also an excellent Form and House Mistress.
She found a very talented and caring group of young staff at DWS and, in her own words, they "mothered" her. Over 50 years on they were almost all still in touch with her. Indeed, just before Easter in 2003, seven of us all met at Faithfull House, where she was living, to celebrate her 95th birthday.
Dear Blakie. She has been a wonderful friend and an influence for good to so many. Nothing was too much trouble for her, whatever the personal cost. I would not be surprised to know from the huge number of cards she received every year for her birthday and at Christmas that the number she kept in touch with ran into hundreds. She never lost her interest in people and what they and their families were doing and her caring concern for those who were going through a difficult time was immensely comforting. Her letters were a model of what letter writing should be and I treasure many of them. I know many feel truly blessed to have known her. God speed, Blakie dear, after a life very well lived.
[Taken from a longer address given at Miss Blake's funeral] Wendy Edwards
---
Mrs Bingham was born Blanche Louise Corbett on 16th April, 1912 and was one of the first women to be admitted to full membership at Oxford University where she won a scholarship to read English at St Hugh's College. Whilst male visitors were permitted in the afternoons the bed had to be wheeled into the corridor for the duration of the visit!
She began teaching in 1934 and married Robert Bingham in 1939. They had Jane, Nick and Kitty [who attended DWS]. In 1963 Mr Bingham became Head of Modern Languages and Mrs B Head of English at DWS. When Mr B died suddenly in 1972 Mrs Bingham retired in the summer term but continued teaching until she was 70 when she moved to London to live with Nick.
She was an inspirational teacher and she made lessons fascinating. The varied discussions we had continued long after classes had finished when we were provoked and stimulated to question and think about Literature and the wider world beyond the school gates. Her wicked sense of humour was always in evidence. On duty once at supper she rang the gong mischievously to remind the Upper Sixth to take Richard to bed with them- they were studying Richard III.
Nick described his mother as "sharp, wise, scholarly, funny, a bundle of contradictions, endlessly fascinating and interested in life and wonderfully loving."
She died just before her 96th birthday and her legacy was far reaching for me and many others. She made Shakespeare come alive and the delving into the psychological insights within his plays intrigued us all. A great teacher. Meryl Davies
---
Stella Brewer (Marsden) Stella arrived, with her sister Heather, at DWS in September 1960. She began in Glyn Malden and when she came to the main school, was in Llys Mynach. She always had a great interest in wildlife and provided her year with great tales of the Gambia. Since 1969 she was involved with her father, Eddie Brewer, in the Chimpanzee Rehabilitation Trust in the Gambia. She wrote "The Forest Dwellers" which was a best seller and there was a one hour documentary film made too. Stella is buried in The Gambia with her chimps. Click Stella's name for more
---
Marion Eames was regarded as one of the greatest Welsh novelists of the second half of the twentieth century. She was born into a Welsh family in Birkenhead but when she was four years old the family moved to Dolgellau. It is interesting to note that throughout most of her childhood her first language was English.
She was a pupil at DWS from 1932 to 1937. Her favourite subjects were Music and English. She won the Crown on two occasions at the annual St David's Day Eisteddfod. The Crown was awarded for poetry in English and the Chair for poetry in Welsh. Her English teacher, Miss Dorothy Davies was a major influence in her early years and Marion always acknowledged the encouragement she received from "Do", who, no doubt, would have been astonished that her star pupil's literary career flourished — not in English but in Welsh.
Marion left school when she was sixteen to work in the Merioneth County Library in Dolgellau. Here, under the guidance of the Librarian, Miss Jane Roberts, her appreciation of English literature was further nourished and developed but, more significantly, it was here that she was encouraged to become fluent in Welsh and where her deep and lasting love of Welsh literature was born.
Although best known as a brilliant historical novelist she had enjoyed a flourishing career in other spheres. She was recognized as a forward-looking and incisive journalist and editor. She was also a talented harpist and attended the Guildhall School of Music as a mature student in 1954. During her time there she met her future husband, Griffith Williams, a Fleet Street journalist. They were married in London in 1955. In 1959 she was appointed to a post with the BBC and remained with the corporation until her retirement in 1980. As producer of radio programmes she was responsible for such flagship programmes as Morning Story and Woman's Hour in English and Llais y Llenor and Merched yn Bennaf in Welsh.
In an obituary in The Independent, Professor Meic Stephens pays tribute to "a perceptive historical novelist" who "was one of the most consummate prose-writers ".... "Her books are admired for their literary quality as much as for the meticulous research on which they are based".
---
Miss Beryl Rees, School Secretary, attended the school from 1934-39. She went to secretarial college and returned straight afterwards to DWS where she remained until it closed in 1975. She was at Pen y Coed for many years and became House Mistress of Llys Mynach in 1968 until 1970. When Glyn Malden was sold the Juniors moved to Llys Mynach so Beryl returned to Penycoed in September 1970. When the school closed she moved to Batheaston, and later retired to Beaminster, Dorset and lived there until her death in March 2009.
---
J. Anne Madoc-Jones (Henderson) 1955-2009 After leaving school in 1972 Anne went on to study at CCAT in Cambridg then worked at the University in the Department of Land Economy.
Anne moved to London in the late 70s and worked for Ove Arup and then moved to BP to work as a PA. Whilst there she was invited to return to Ove Arup to take up a post in Hong Kong where she was part of the team constructing the new Headquarters of HSBC. During her time in Hong Kong she travelled extensively in Asia and she also met her husband. When they returned from the Far East they lived in London for many years.
Sadly, she was diagnosed with cancer in January 2008 and despite a brave and determined battle through a number of treatments and major surgery she passed away peacefully on 27th October, 2009.
---
Pauline Lesley Ridyard (nee Roberts) known to all as Lesley, passed away at the age of 76 in Sugar Land, Texas in November 2009.She was raised in Hale Barns, Cheshire, but during the war, she attended Dr. Williams School in Dolgellau, Wales, where she captained the cricket team. She went on to study pharmacy at Manchester University where she met her future husband, Joe (1928-1980), the son of a Bolton textile family. The couple were soon married and moved to Bolton, where Lesley worked as a pharmacist.
In the mid 60's, Lesley became involved with Oxfam, chairing a local group. Lesley's tireless leadership of a large group of volunteers led to the success of the shop, raising over 750,000 pounds over more than 30 years. Lesley was eventually offered an honorary position as a volunteer representative on the Board of Trustees of Oxfam, and one of her proudest achievements was a trip to Somalia to support Oxfam's water related projects in the area. Lesley was active in numerous campaigns including disaster relief, and long term sustainable development, such as the emerging fairtrade movement.
In 1996, Lesley moved to Sugar Land, Texas to join her son, David. In Texas, Lesley volunteered at the local hospital right up to her recent death, as well as assisting in adult literacy campaigns and food distribution to the poor.
---