DWS OGA South Wales Branch
May 4th 2017
Dear All,
It's time to arrange our annual reunion – this is arranged for Wednesday 7th June, at The Atlantic Hotel, Seafront Porthcawl CF36 3LT, telephone 01656 785011.
Last year we met mid week as agreed at our 2015 reunion, and again agreed that this year we should try a date in May in the hope that it would prove to be a better time for everyone. Unfortunately I forgot all about it until now!!!
I suggest that we meet in the bar as usual from 12.00 midday for lunch at 1.00. They have an extensive menu and a range of prices.
At present I am concerned to give you advance notice of the date – and obviously hope that we will be a good group of Old Girls again this year. If there is any more information to add, I will send another e.mail.
Looking forward to hearing from you. Please let me know if you are attending by Thursday 1st June 2017
With best wishes and in friendship,
Janet
Branch Secretary
01437 541205
________________________________________________________________________________________________________________
Dear all - a very happy lunch
Thursday 23rd June 2016 Atlantic Hotel, Seafront, Porthcawl CF36 3LT
left to right: Janet Jones, Janet Morris, Janet Jenkins, Angela Rees, Jennifer Bennett, Elizabeth James, Joanna James, Lorna Henry, Elizabeth James.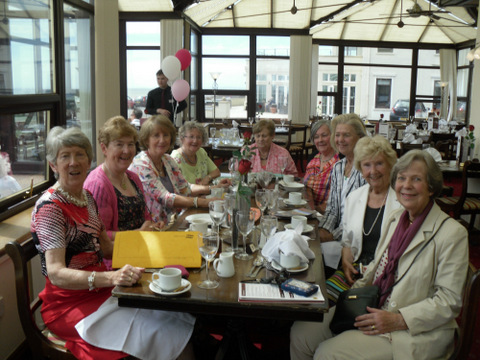 Again this year, our reunion was held at The Atlantic Hotel, Porthcawl – this has proved to be a good venue.
At last year's get-together, it was agreed to try a mid-week date this year.There should have been 13 of us, but unfortunately three had to cancel.However, we were pleased to welcome Joanna James, Elizabeth James and Janet Morris.We usual we exchanged news and it was evident that members wish to continue to have our reunions and keep to a mid-week date but it was agreed to bring it forward to May as many members may be on holiday in June.
Present:
Janet G Jones;Angela Rees;Janet Jenkins;Elizabeth James (Haverfordwest);Janet Morris;Joanna James;Elizabeth James;Lorna Henry;Jennifer Bennett;
We discussed the continuation of the Association and no one wished to see it closing despite their lack of contributions, but expressed appreciation of the work done by committee members and others keeping it active.
Janet Jones
__________________________________________________________________________________________________________
Saturday, June 27th, 2015 at The Atlantic Hotel. Porthcawl
From left to right:
Anne Owen-Jones; Carol Williams; Sarah Owen; Lorna Henry; Nansy Beasley; Elisabeth James; Angela Lewis; Janet Jenkins; Margaret Hewitt; Jennifer Bennett; Janet Jones (standing).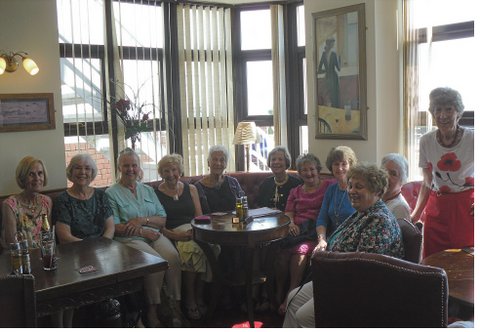 Our reunion on 27th June 2015 proved that the South Wales branch is "alive and well"!! This year, eleven of us gathered for our annual get-together and it can be described as a happy occasion, with lots of chatter and laughter.We were particularly pleased to welcome two new "old girls" to our reunion – Laura Henry and Nancy Beasley, both in their 80's.They could clearly recall life in DWS in their day.We were also pleased to welcome Margaret Hewitt from Burton-on-Trent who taught English.
Angela Lewis distributed copies from Cambria (History & Heritage) magazine about "Eluned Morgan, The Woman from Patagonia who 'Walked like a Prince'"
The first paragraph opened as follows "In 1885, during the high summer of Victorian imperialism and with the Welsh not in full force, a fifteen year old school girl, Eluned Morgan, led a walk-out at the Dr Williams School in Dolgellau in protest against its colonial English-only rule.
Eluned had been punished the previous day for speaking Welsh at the dinner table.She was ordered to stand outside as 80 of her schoolmates finished their lunch and stared at her.But unlike the submissive, defeated Welsh of the Victorian Age, Eluned Morgan stood her ground…."
A very interesting article.
Chairman Nesta's message was read and emphasised the need for members to register on the website to receive information on the OG part of the site and remain 'current' with DWS news.This has been forwarded to all branch members.
The proposal to try a mid week day next year was discussed and agreed, and the venue to remain the same.
Several apologies were received – many on holiday or otherwise unavailable.
A warm welcome to all Old Girls to our reunion in 2016.
Janet G Waymont (Jones)
Branch Secretary
South Wales Branch Annual Reunion 14th June 2014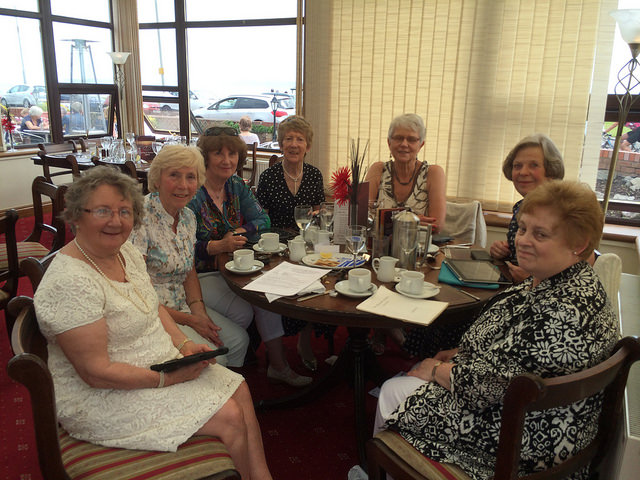 You can never predict if you have chosen a good date when "everyone" can attend, or the date clashes with a range of personal/family events that affect our members! This year, our numbers were slightly down but nevertheless it was a good get together and all valued our reunion.
Janet Jenkins
Angela Lewis
Elizabeth James
Susan Ogden
Jennifer Cox
Olga Williams. (It was particularly good to have Olga join us for the first time.)
Janet Jones
Regrettably Chairman Nesta was unable to be with us again this year but she sent her report which was read.
We then gave Sue time to explain our updated website and demonstrated with her laptop how to access the information. Janet (Waymont) brought the 1959 school magazine which had been lent to Sue to see if there was anything that could be included in the website.
The date of our 2015 reunion is likely to be mid-June – a weekday has been suggested in the hope that this will be preferred to a Saturday. Members will be contacted to ask for their comments.
It was agreed that Angela and Janet should look for another venue.
I sent out a notice of our reunion to all those who have e-mails, but I only received a few replies. However, I will keep trying!!
Janet Jones
Branch Secretary