DWS OGA Midlands Branch
DWS OLD GIRLS' ASSOCIATION MIDLAND BRANCH REPORT 2017 REUNION
Dear Member,
A group of us met on Saturday March 11th for lunch at The Creperie Restaurant, Heart of the Country Centre near Lichfield. This was our venue last year and we decided to see how things would go this time before deciding whether to carry on, amalgamate with another branch or wind up altogether.
This decision paid off! The attendance this time was ten: Meryl Elwell (Davies), Nesta Farrow (Lloyd), Christine Langrick (Waddell), Lyn Matthews (Gilmour), Caroline Beck (Mary Coney), Janet Matthews (Gough), Kate Macmaster (Catharine Hill), Lesley Moxon-Jones (Jones), Sarah Tunnadine (Philpot), Margaret Hewitt (staff).
Apologies were received from Sally Montague-Williams (Lloyd), Shirley Stirling (Pilkington), Jane Lloyd-Hughes, Oriel Holden (James), Eirian James (James) and Lynne Moorhouse (Moody) Nesta Merrells (Wynn Jones) Eleri Wyn Williams (Evans)
We decided to meet again at the same venue, this time on April 14th 2018, to see if this will be more convenient for members.
Please mention this to any Old Girls with whom you are in contact- to see if we can increase our numbers even more!
With best wishes,
Margaret and Lynne, lynnemoody@btopenworld.com
TRAVEL TIPS: travelling north on the A38? Continue on dual carriageway beyond the 'Heart of the Country' (on the right) to the next large roundabout (junction with the A5148) double back and travel south on the dual carriageway until you come to 'The heart of the Country' central entrance on the left
Branch Secretary:
Margaret Hewitt,
144, Field Lane,
Burton upon Trent,
Staffordshire,
DE13 0NN
Tel: 01283 546840
___________________________________________________________________________________________________________________

Report of the Midland Branch reunion held on Saturday 12 March 2016
Six of us – Nesta Wynn Jones, (Merrells) Janet Gough, (Mathews) Nesta Lloyd (Dr Farrow0 Meryl Davies (Elwell) Jane Lloyd Hughes, Margaret Hewitt (staff) met at The Peartree Creperie, Heart of the Country , Nr Lichfield. Despite our low number it was good to exchange news and enjoy each other's company and each some fantastic crepes.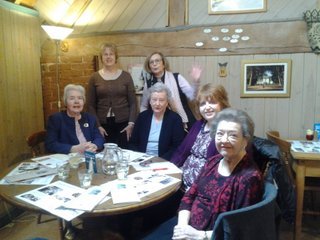 left to right: Margaret, Janet, Nesta, Jane, Meryl, Nesta Ll
Apologies were received from Eirian James, Oriel James (Holden) Jenny Bennett (Cox), Mary Coney (Caroline Beck), Joyce Davies (Wearing),
Eluned Gilmour (Mathews), Sally Lloyd (Montague Williams), Catherine McMaster (Hill), Sarah Phillpot (Tunnadine), Shirley Pilkington, Rhian Price Rowlands (Howland).Many OGs living in the Midlands and have previously attended meetings have not left their latest e-mail address details or a SSAE with me so unfortunately it was not possible to contact them.All details are always uploaded to the OG section of the website; to access you need to log-in.
We were sorry to learn of the death of Doreen Peach (Shipton) on March 3rd 2016.
Discussions regarding the future of the Branch resulted in booking a date for next year and meeting at the same venue.It may be possible that this will be the last meeting as no one has come forward to take on the role of Branch Secretary and numbers are dwindling.Perhaps we might amalgamate with another branch or wind up altogether?
Date of next meeting: Saturday, 11 March 2017 at
The Pear Tree Creperie, Heart of the Country Village,
Swinfen, near Lichfield,
Staffordshire, WS14 9QR
www.heartofthecountryvillage.com tel: 01543 481612
Margaret A Hewitt (Secretary) and Lynne Moorhouse lynnemoody@btopenworld.com
___________________________________________________________________________________________________
2015 MIDLAND BRANCH REPORT Sat March 14 12.30pm
This year, our reunion was held at The Creperie Restaurant at The Heart of the Country Centre near Lichfield.
Those attending were: Meryl Davies, Margaret Hewitt, Eirian James, Oriel James, Nesta Lloyd, Sarah Phillpot, Chris Waddell and Nesta Wynn Jones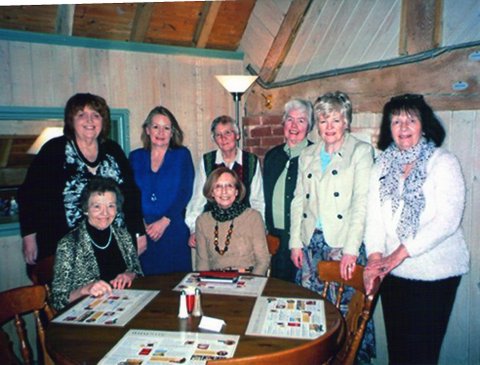 L - R standing: Meryl, Sarah, Chris, Margaret, Eirian, Oriel L - R seated: Nesta Ll, Nesta WJ
We heard news from other branches, in particular the well-attended Birthday Lunch organised by the Dolgellau and Mid Wales Branch.Thanks were expressed to Meryl for her stint as Midlands Branch secretary and she was presented with a plant.A card was signed for Doreen Peach whose health means she will no longer be able to attend reunions.
We discussed future meetings and decided the venue suits us well and that we should try one or more meetings before deciding about amalgamating with another branch.We also decided to keep the date away from St David's day because of other commitments people have then.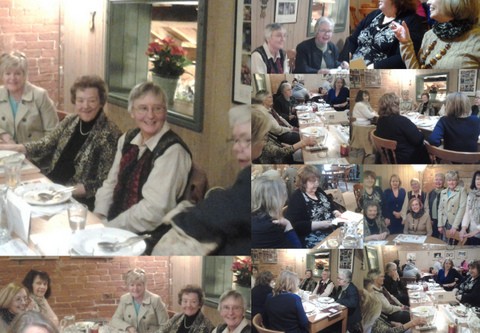 A most enjoyable get together.
March 2015.
__________________________________________________________________________________________________________

Report of the 2014 Branch reunion lunch held on Saturday March 8th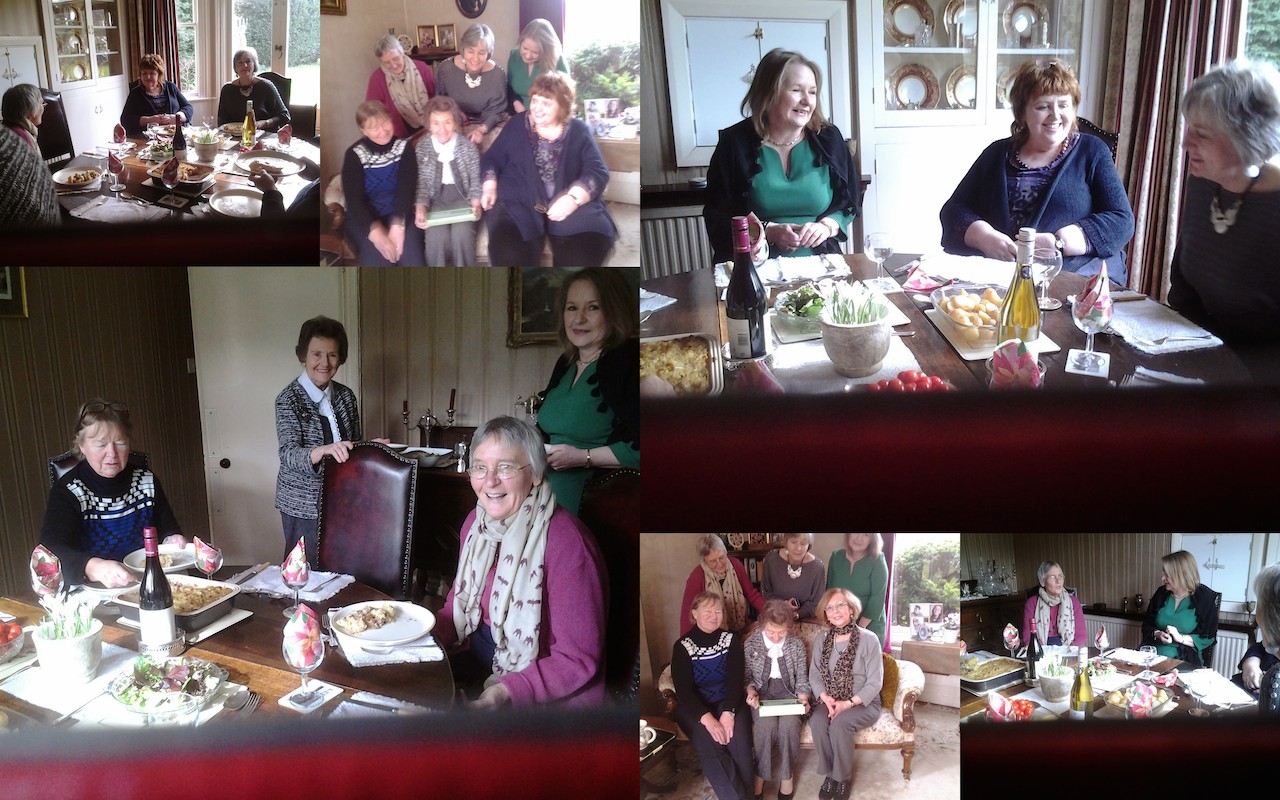 There is always something magical about seven so we are told and, so it was, that the said number of us met on a sunny March day at the home of Nesta Lloyd in Sutton Coldfield. We do seem very blessed with good March weather in the Midlands for our Reunions… In fact, some of you might not know this, but fewer hours are lost to rain in Test Matches at Edgbaston than any other ground in the country!
We resisted the temptation to burst into song with either pieces from Seven Brides for Seven Brothers or indeed renditions from the Sound of Music with seven Von Trapp singers but we were able to reminisce on some of Our Favourite Things about school and even more easily about things which were NOT our favourite things... like the food. The fact that we were meeting to enjoy a fabulous lunch made by Nesta and represented a span of almost some thirty years at DWS showed how easily we meet and talk to OGs who were at school during a totally different era but with whom there is a thread spinning us together.
We were delighted to have Nesta, our Chair, to give us some of the details of the Heritage Lottery Fund award with exciting opportunities for people to get involved and to learn how the project will be forging ahead. There will be time to learn more when we have the BGM this September in Dolgellau of course.
The jolly seven were Nesta Lloyd, Nesta Wynn Jones, Sarah Philpot, Christine Waddell, Helen Rowlands, Lynne Moorhouse and Meryl Davies.
2015 date will be on Sat 14 March, venue - Pear Tree Creperie Heart of the Country Village, Swinfen, Nr Lichfield
(see News and Events page for details)
Meryl Davies
,