DWS OGA London Branch
LONDON BRANCH NEWS
alexmjw2@gmail.com
REPORT OF DWS LONDON BRANCH REUNION 2017 held on Saturday 8 April 2017 at Carluccio's restaurant Spitalfields (27 Spital Square E1 6DZ)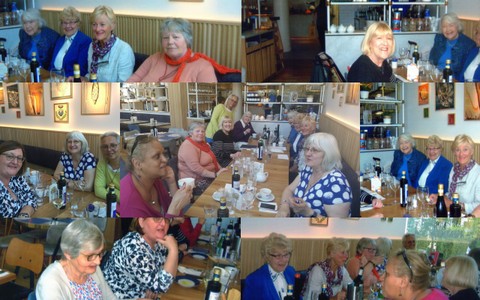 Ten Old Girls attended the London Reunion luncheon on a warm, sunny day. We had a bright, semi-private corner at this Italian restaurant and had good service from the staff.
Apologies were received from 20 OGs who all sent good wishes. Some also sent their news and of other OGs and of the website.
Best wishes would be sent to those unable to attend because of health or family reasons.
The meeting was fairly informal and there was lively 'catching up' conversation as some present had not attended London reunions for a while. Some photographs were taken and would be circulated.
The matters discussed were
1. A successful bid had been made last year to the Dr Daniel Williams Educational Fund which could encourage other grandmothers to apply.
2. Future of the branch; Alex would be standing down after next year but a group of younger OGs who were present would be interested in carryingthe meetings forward.
3. All present thought it would help attendance and local, informal meetings if email and postal addresses were more widely available so neighbouring OGs could make contact and encourage each other to meet. Currently the address lists are restricted for privacy. It was suggested that if emails were copied with addresses not as blind copies it might help but each time OGs could be asked if they would agree to share their details.
Having found their way from Liverpool Street Station to this branch of Carluccio's the group decided to choose the same venue for next year.
Next year's date would be Saturday 7 April 2018.
for sample menu go to http://www.carluccios.com/restaurants/london/spitalfields
Carluccio's Spitalfields
27 Spital Square
London E1 6DZ
Tel: 0207 392 7662
___________________________________________________________________________________________________________

Saturday 19 March 2016 Kensington Hotel for lunch -3 course meal with tea/coffee
Reunion Report - sorry no pics this year.
Twelve Old Girls, most of whom had travelled long distances, attended a pleasant luncheon at the hotel. The meal was excellent and service unobtrusive allowing us to chatter, reminisce and laugh. Time passed so quickly that it was soon 4:00pm and many were having to leave to catch trains.
those attending:
Judy Abbott , Anne Morgan , Shirley Rushton , Penny Mosedale,
Nesta Wynn Jones ),Jane Lloyd Hughes, Miss Margaret Hewitt, Sioned Williams ,
Angela Kay, Bridget Swindells, Stefanie Robinson, Alexandra Harper )
Apologies had been received from 32 other OGs who sent good wishes.
The matters arising from the 2015 minutes were the website, the ongoing situation e.g. the six month extension to allow additional uploading, the evaluation of the project for the final tranche of Heritage Lottery Fund grant and the personal recollections it had elicited. January had brought a last minute rush of material. Congratulations were offered to those involved in the project especially the website managers and student volunteers. The value for the students in work experience for their courses was noted.
The main agenda items were
the future of the DWS Old Girls Association as, apart from the Dolgellau area, branch attendances had reduced. Copies of the DWS OG Constitution (revised on 29 September 2012) were circulated so the OG could see the provisions in Paragraphs 5 and 8 for future change:
plans for next year's London Branch Meeting. Although 83 people had been contacted only about half had replied. A few who had not been on the list made later contact but the rigid timing for the hotel this year for numbers and the increased cost of the meal made it difficult to encourage late additions. A revision would be made of the databases for the branches and years at school would be added if possible as some OGs said they were deterred from attending if not sure of meeting friends and would prefer meetings for their own years. This would be encouraged.
The reunion was enjoyable but a more flexible venue (possibly a branch of Carluccio's restaurant) would be sought for next time.
The date for next year was agreed as Saturday 8 April 2017. Venue to be confirmed.
March 2016

___________________________________________________________________________________________________

Saturday 21 March 2015 at The Kensington Hotel,109 - 113 Queen's Gate, South Kensington, SW 7 5LF
Fifteen Old Girls attended the private luncheon at the hotel and enjoyed meeting OGs from different generations. Some from the 70s
Apologies had been received from sixteen other OGs who sent good wishes.
Matters discussed (apart from reminiscences and catching up) were:
The Biennial General Meeting held in Dolgellau in September 2014 was noted to have been a success in conjunction with the launch of the website on the Sat afternoon of the BGM weekend. Reports from the OGA President and Chair were made available.
The website project; thanks were expressed to Jennie Hutcheson and Sue Ogden who attended to give news of the project. There was an increase of OGs registering on the site and the uploading of photographs and memories was encouraging. One of the recent items which had been posted by Penny Mosedale was an extract from the biography of Bronwen Astor (edited by Penny) whose letters from school had been saved by her father. The letters detailed life at DWS during WW2 at that time.
Mr Peel (member of staff in the 60s/70s) donated his recordings of Christmas concerts which are being edited by the Music Technology department of Huddersfield University. Some of the recordings are already on the site under 'audio'. One recording was played and suddenly some OGs joined in – they remembered singing in the choir in the '70s!"What a buzz" said Jennie –"wasn't expecting to hear anyone sing along to the 'Old Mother Hubbard' sound file on the site over my rice pudding!
OGs were asked to register on the website asap so that they could access the OG section detailing - news and events, branch reunions, reports and photographs and obituaries as after July 2015 registration would take longer to approve since this was the end of the project.Uploading of stories to the main site can also only be done if registration has taken place.Any stories submitted after July 2015 would not immediately be uploaded since the project would have finished.The site however will be accessible for 5 more years before it is finally archived.
A copy of 'A Patchwork of Memories' by Gaynor Smith a pupil during the 30s was brought by Nesta for people to look at. Edited parts would be uploaded to the website as the narrative related to the experiences of many OGs. Watch out for accounts of Miss Nightingale and 'DO'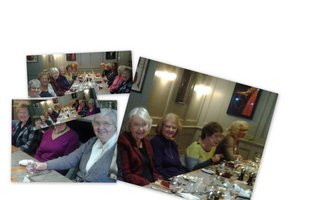 The venue and luncheon were excellent so a repeat was requested for next year.
The date: Saturday 19 March 2016 Kensington Hotel for lunch .Details to be confirmed.
Alex Harper
May 2015