DWS OGA Bristol & West Branch
D.W.S. Old Girls Association – Bristol and South West Branch September 2015
e-mail: ruth.drysdale39@gmail.com
Dear Member
Saturday 26th September 2015 at the Huntsman Inn, Falfield from 12 noon for an informal buffet lunch
The meeting was planned to coincide with a get together weekend of my personal school friends which helped to swell the overall numbers of our lunch time meeting. The replies and turn out for the actual branch ( 6 members ) was disappointing and there is a plan afoot to combine with the Midlands Branch (there is also an opportunity to meet up in South Wales Meetings).
Nevertheless it was enjoyable to get together and there were not many gaps in conversation! We are very informal, no minutes, just a chill out and enjoy lunch!
Those present were:-
Jenny Deacon / Jackson Judy Thompson / Hulme Jane Lloyd Hughes Gillian Pearson / Reed
Mair Samuel / White Meryl Davies /Elwell Chris Denley Lloyd Jenny Briggs / Webb Judy Abbott / Fletcher
Frances Darbyshire / Cox Barbara Davies / Prys Williams Elinor Mathias / Lewis Mary Coney / Caroline Beck
Margaret Hewitt Ruth Duncan / Drysdale
I will hopefully manage to get contact addresses etc. sent to the Midlands Branch.
Thanks to all for support over many years!
Regards Ruth Drysdale
____________________________________________________________________________________________________
2013 - the last reunion as we meet biennially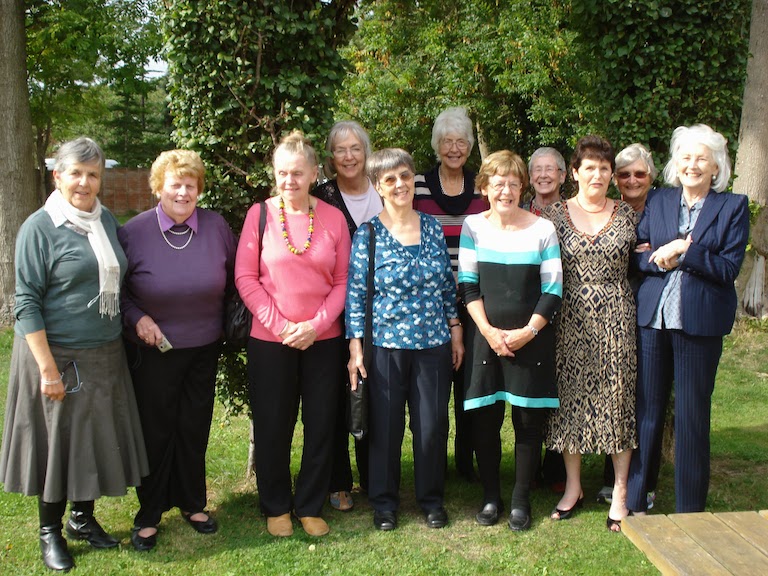 The 2013 meeting of the S.West Branch on Saturday 28th September 2013 was something of a misnomer! In fact there were only three S.West residents present – Secretary Ruth Duncan, Mair Samuels and Jenny Briggs. We met at the Huntsman Inn Falfield and enjoyed a good buffet there, welcoming Carol Williams and Sarah Owen from the S.Wales Branch.
Sadly Magaret H and Gill Pearson had to cancel at the 11th hour All was not lost, however as Ruth had decided to use the weekend as an opportunity for a get together of her contemporaries. We stayed two nights at the local Premier Inn and indulged in food and wine at different local hostelries as well as the actual reunion meeting. It was so good to have this gathering of mid seventy year olds:-
Judy Thomson, Jenny Gorton, Judy Abbott, Fran Darbyshire, Jenny Deacon ( flew down from Edinburgh for the event!), El Matthias, Barbara Davies and Myrtle Mackereth.
Much in our thoughts over the weekend was Celia Ridge, another contemporary, who has been such a stalwart of so many reunions both here in the S.West and Dolgellau as well as organising the London Branch until recently. We hope to meet again on the last Saturday of September 2015.
There are some emails from my list that were returned as non delivered. Please do get in touch with any address changes if you want notification of future meetings. We have always tried to provide a useful and accessible venue so that members from S.Wales and the Midlands can also join us.
Ruth Duncan - Secretary