DWS OGA Chester Branch
Report of the DWS OGA Chester Branch annual meeting 8th April 2014
NB As from Sat 27 September at the BGM, Chester Branch now amalgamated with North Wales Branch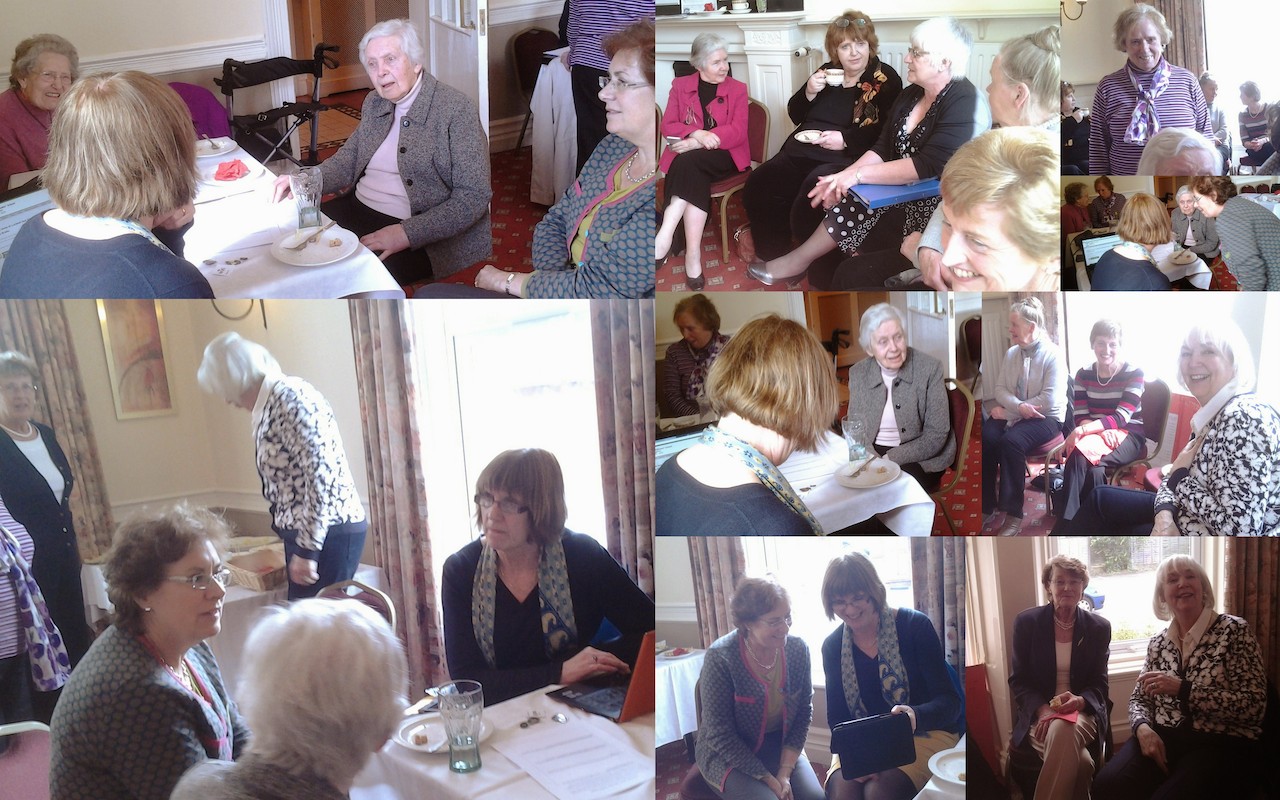 14 members were present at the Dene Hotel, Chester, and a buffet lunch supported a lively gathering.I, as secretary started the proceedings saying that Yvonne Parry (Sanne), who is 86 years old in July had recently had a pace maker and subsequent cardiac ablation at Broad green hospital. She was therefore unable to attend, but was making good progress.
Sadly, merely in the process of cascading information to members on email, I learnt of June Hunter's (Brocklebank) somewhat sudden death. A letter from widower Mike was passed around. I have also spoken on the telephone to friend Carol Shaw (Whalley), but it seems unlikely that she would be attending another meeting.
We discussed a new home for old magazines and newsletters 1982 – 2010 which were currently held by Audrey Matthews (Powell). It was decided that they should be collected and taken to the September Biennial meeting, and Anne Lloyd Davies (Roberts) would make enquiries as to whether any were needed in the Dolgellau archives.
It was reported that the finances of the branch were quite "rosy"
Proposed amalgamation/merger of the Chester Branch with the North Wales Branch
I have been secretary for 12 years and have enjoyed the role and the rewards of the duties. However it was noticeable that this year the numbers were noticeably down, and besides myself only 4 'active' Chester members, that is Christine Sheffield (Davies) June Ashworth (Penney) Jean Hartley (Timewell) Diana Miller (Fagan) were present. 3 had not replied to the calling letter. Others present were Nesta Wyn Jones (Merrells), Meryl Davies (Elwell), Nest Roberts (Bowl) and Jennifer Hutcheson (Forrester) from the Committee. Carol Williams (da Rosa) and Sarah Owen (Underwood) from South Wales, Margaret Hewitt from the Midlands and Anne Lloyd Davies (Roberts) plus Merianwen Roberts (Edwards) from North Wales.
For a number of years I have been trying to find a deputy, but had failed. Now I need a successor. Rather than "abandon ship" so to speak, I propose a merger with North Wales. It was in April 1952 that a new Chester branch was formed, recruiting from North Wales, Lancashire and North Midlands. There was a unanimous nodding of approval and agreement that new and younger members are now needed, and the new website would be the way forward. It was noted that the North Wales meeting normally took place in May, and many would be considering the costs and hazards of travelling to extra venues.
I, like all secretaries have received a giant spreadsheet of names, many unknown that needed to be updated. Again the internet seems the way forward.
Nesta informed us that Jane Lloyd Hughes' secretarial position had been replaced in North Wales by Jill Dunn (Hughes), and that Jane would also be standing down from the President role. Meryl's name had been put forward and this was unanimously seconded by all members present.
Nesta gave us more information on the September 27th/28th weekend; booking forms were available for any without computers.
Jennie then 'took the floor' and using the hotel wifi and posters that Nesta had brought, enlightened those present on access to the new website.The meeting ended with expected laughter at the stories now being retold for prosperity.
I have contacted and discussed with Jill the merger of Chester members with the North Wales branch. The proposal will be put before the committee and subsequently the AGM in September 2014. Presuming that the motion is carried, the subsequent meeting will be in May 2015.
May I take this opportunity to thank all members for their support over the years.
Janice Crow, Chester branch secretary
Jill Dunn North Wales branch secretary
Editor's note: Janice has done a magnificent job of organising the Chester Branch over the last 12 years. Thank you Jan. Perhaps you will make Criccieth in 2015