Class & Year Reunions
It appears to be that more people are attending meetings than ever before.
Thanks to all the Branch Secretaries who hold the whole thing together and arrange the opportunity to meet up with old friends. There seem to be several who are now organizing "year group get-togethers" and having a lot of fun. We would love to hear about these, and advertise them on this site.
Below is a gallery of photos of meetings which have taken place in the last few years. For more information on old girls, see our Facebook page
CLASS of 1965-1971
From l-r Lesley Jones, Gail Hall, Meryl Davies, Eleri Wyn Evans, Alison Fitt, Maggie Rhys Williams, Sally Jones, Sue Matthews, Helen Lane, Mary Davies, Lyn Gilmour, Amanda Thomas,Maggie Rees.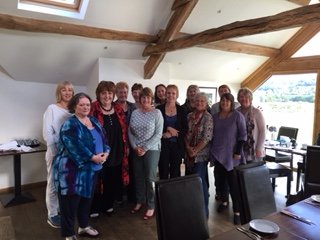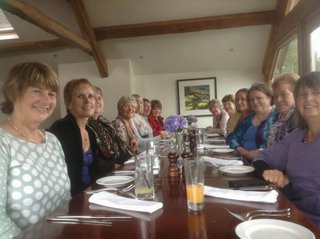 Fifty Years On
On no particular day in August it struck me that 50 years ago my year were buying Cash's name tapes, being surrounded by mounds of alarmingly growing numbers of green clothes (did you have that 'voluntary' green cloak?) and discovering just what would fit into a school trunk whilst hoping we had managed to gather everything on that foolscap list.
So what to do? Being in touch with Maggie Rhys Williams, Gail Hall and Lyn Gilmour via Facebook I suggested we celebrate (if that were the appropriate word?) or at least mark the occasion. Various dates were suggested and, discovering we had arrived at DWS on 16thSeptember, 1965 the choice of 17th September, 2015 was made.
Lyn and Gail were skilful Facebook users and helped us upload the black and white photos of our early years which we all enjoyed. These evoked all sorts of memories and comments of course and encouraged others to find their own photo albums. Thank goodness these usually contained names- so many nicknames of course so we could remember past friends. Between us we were able to contact many of our year. How much easier if we had been a Boys' school: they don't have to contend with married and maiden names as we do! As many have discovered, finding OGs is not straightforward.
Some of our year were still working, some were on holiday and some just couldn't make it but the fun of being in touch,even before we met, built up the expectation of our having a great time when we did meet at the lovely
Bywty Mawddach locally. It really was a joyous time and, as many of our year left after O'levels, meeting somewhere again after a gap of 45 years was wonderful.
It is that delicious mixture of rediscovering who we were whilst filling in those gaps to describe the life we now lead. As Lesley said if we were all dropped on a desert island would we slip back into the same friendship groups we had back then or evolve new ones? ( has Lesley been reading "Lord of The Flies" I wondered? People arrived with their own set of expectations and probably left with not only a sense of the group but also the discoveries we had made about ourselves and each other I expect.
The best news... We are meeting again in two months!
Meryl Davies (Elwell) Sep 2015
_________________________________________________________________________________________________
Class of '68 l-r Jane Saltman of Newfoundland, now California, Menna Lloyd Williams (staff) and Allan, Jane's husband.